At our endodontic practice, we recognize that all our patients are unique, and deserve to receive endodontic care that reflects their individual needs. Our team is committed to working with you and your family to create a positive, comfortable, and customized endodontic experience every time you visit our practice.
---
Worcester Office

Julie
Office Coordinator
I am responsible for all aspects of our patients' insurance financials. I provide outstanding customer service, serve as our staff liaison, and am the official office baker! I have been working in endodontic practices since 1999 and joined this office in 2014. The best part of my job is working with patients. I like to try to make them feel more comfortable with endodontic treatment and ease their nerves. Our amazing team helps with this effort, since we are all happy and love to share laughs!
I lived just outside of Detroit for a decade and a half, and now live in a quiet country setting in Northern Massachusetts with my husband and our dog and three cats. In my free time, I love baking, gardening, and crafting.

Edwin
Dental Assistant
I graduated from New England Dental Assisting School in Worcester in 2013 and have worked in general dentistry as well as periodontics. I worked as a patient liaison for a periodontics practice for 6 years as well as assisted. I also handled all aspects of the administration side of the office including scheduling apppointments, verifying insurance and interacting with the patients. I love working in a busy office like CNEEI because I get to interact with a variety of people. I enjoy helping them with their oral health. Being bilingual has also been beneficial to ensuring our patients needs are met to their satisfaction. I am a Worcester native and am proud to serve my community. CNEEI is like a big family. I enjoy the fun we have at work and am proud to be part of such a caring team.
My wife and I enjoy spending family time with our two boys as well as our extended families. We enjoy traveling, day trips as well as just relaxing on the weekend.

Katie
Dental Assistant
I completed my undergraduate degree at Camden County College and my dental assisting certificate from New England Dental Assisting School. Here since 2015, I can be found working chairside with our doctors to provide an excellent level of care. We love welcoming patients into our big, happy family. Our patients are such a varied, interesting group of people, who all have a story to tell. Our interactions are the best!
I was born and raised in southern New Jersey. In 2010, I relocated with my 3 kids to Central New England. We love to travel as a family, which includes three dogs!

Courtney
Dental Assistant
I hold a bachelor's degree in sociology from Fitchburg State University and a certificate for dental assisting from Porter and Chester. I feel lucky to have worked here my entire career, starting in 2006. I like that I am on the move all day! Every day is different and brings new challenges that are exciting to meet. I love learning new things and appreciate our doctors' dedication to advancing our education.
I have lived in central Massachusetts my entire life. My husband and I have been married for more than 15 years and have two wonderful daughters. When we aren't running around watching our kids play sports, we love hanging out at home with family and friends and our dog Sherman!

Adriana
Dental Assistant
I graduated from dental school as a dental surgeon from the University of Guanajuato in Mexico in 1995. I worked for five years as a dentist before moving to the USA in 2002, and started working as a dental assistant at Central New England Endodontists. In my role here, I assist our doctors and make our patients comfortable during their procedures. I find it fulfilling to help ease patients' fear and anxiety, and knowing they will leave with no pain and smiling.
My husband and I have a daughter, Tanya. We also have a dog, Maya. In my free time, I like to go for walks and watch movies with my family.

Anne-Marie
Bookkeeper
I am responsible for keeping the financial aspect of our office running smoothly and efficiently. I enjoy bookkeeping and building relationships with the people who work here as well as our vendors when they have questions.
My children are grown and have families of their own. Many of my grandchildren participate in sports, and I'm their biggest fan. Personally, I enjoy music, dancing, movies, theater, and spending time with family and friends. I enjoy life and all it offers!

Kristen
Practice Manager
I have worked at Central New England Endodontics, making sure the practice runs as smoothly as possible, since 2018. My favorite part of my job is finding ways to streamline processes and use technology to help us become more efficient. I love working with our team because we are like one big family. Everyone chips in to help one another as well as offer advice when necessary. It is a wonderful supportive atmosphere.
I have three children of whom I am very proud. I currently reside in North Eastern Connecticut with my daughter and our rescue dog Henry and cat Koda. I enjoy traveling, photography, and gardening when I am not working.
---
Fitchburg Office

Alicia
Front Desk Administrator
I went to Porter and Chester Institute, where I became a formally trained dental assistant. SInce joining Central New England Endodontists in 2016, I work at our front desk where I answer the phones, book appointments, and handle our patients' dental insurance claims. I love communicating with our patients, educating them by answering any questions they may have, and making them feel at ease. From the time our patients walk into our office until the time they leave, everyone here works together and make it the best experience possible.
I am married and have two wonderful children. When I am not at work, I enjoy spending time with my family and friends. I also love being outdoors and enjoy hiking, biking, and swimming.

Dianne
Front Desk Administrator
I started working in the dental field when I was 19 years old. I worked in general practice, then joined the team here at Central New England Endodontics in 1998 and have been here happily ever since! My favorite part of my job is the daily patient interactions. I enjoy talking to the patients and hearing about their lives and helping to calm their fears. We also have a great team! When patients first arrive at our office, a lot of them are scared and anxious, but leave with a smile on their face, and that's because we all work together to make sure their experience is the best it can be!
I am married with two grown children. We have three cats — Spooky, Mister, and Puddy — who are like our children. My husband and I enjoy traveling and exploring new places now that our kids are out of the house. I also enjoy bargain shopping: I'm always looking for a good deal! I love going to the beach and swimming in my pool in the summertime.

Carol
Licensed Dental Assistant
I took an extensive postgraduate program in dental assisting in 1971. During the program, I got clinical experience in all dental specialties in addition to general dentistry as well. I was offered a job at Central New England Endodontics while still in school and have been here ever since! No day is ever the same. I like working with all of the doctors and our great team. I like to refer to them as my dental family!
Now that I'm an empty nester, I would like to get back into snowshoeing and hiking. I love spending time at the beach, no matter the season. I enjoy needlework, spending time in my garden, and supporting my community by going to local events. I also enjoy attending Broadway shows!

Naisha
Dental Assistant
I attended Monty Tech High School where I majored in the dental assisting program. I graduated in 2015, not only with my diploma, but also as a formally trained dental assistant. I worked in general dentistry for several years and was provided the opportunity to become a Central New England team member in 2018. I have been here ever since! My favorite part of my job is providing optimal patient care. Many of our patients arrive to our office in pain and scared. I love taking part in getting them out of discomfort and calming their nerves. It is such a great feeling to see our patients walk out of our office with a smile on their face!
When I am not a work, I enjoy spending time with my family and friends. I also enjoy hiking, spending time with my dog Leo, and of course, Jeep life!

Nicole
Dental Assistant
I received my dental assisting certificate in 2009 from Porter and Chester Institute. I worked part-time in general practice, chairside and at the front desk. I also worked as a temp, and traveled to many different dental offices with a variety of dental specialties. I temped at Central New England, where I was offered a permanent position and have been here ever since! My favorite part of this job is providing optimal dental care for our patients and giving them the opportunity to save their teeth through root canal therapy.
I really enjoy spending my time off outdoors. I love playing disk golf and hiking with my dog Indie. I also have a horse and I enjoy horseback riding!
---
Keene Office

Michelle
Office Coordinator
With an early childhood education background, I first utilized my existing skill set in a pediatric dental office. I felt lucky to be a part of the ever-growing practice. I wore many hats as front desk, patient liaison, dental assistant, and assistant for full mouth dental rehabilitation cases. Through these experiences and working knowledge, I earned my certifications through NHTI and Boston University.
I came on board CNEEI in November 2021. I had been intrigued with endodontics after my experiences with assisting in cases involving pulpectomies and pulpotomies. However, I also enjoy talking with patients and helping them through making informed decisions. They feel comfortable and leave with a smile. So rewarding! With my clinical background, transition was smooth from back to front, front to back. I love being part of an amazing team and helping patients feel better with my friendly demeanor and focus on a high standard of care.
When I am not at work, I enjoy time with my family, friends, and my furbaby, Lesa. I am an outdoorsy kind of gal enjoying hikes, kayaking, road trips, jeeping and photography! I am also into bootcamp fitness and love my fitfam community.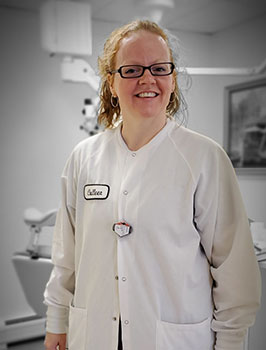 Colleen
Dental Assistant
I was hired right out of school by a general dentist, but really wanted to work in a specialty office. When the opportunity arose to work in the field of endodontics and implantology, I was very excited to be offered the job! The best part of what we do for me is getting patients who are in discomfort, comfortable. I also really enjoy patient education: when a person understands what has happened to their tooth, and how we go about fixing it. It really helps them to relax!
I'm originally from Massachusetts and moved to the area some years ago with my long-time boyfriend and our cat. I love it here; downtown Keene is beautiful. I enjoy walking around and dining at some of the local restaurants. I often refer patients to good local spots for lunch, coffee, and treats. I also enjoy gardening, baking, and spending time with friends and family.

Linda L.
Dental Assistant / Clinical Coordinator
I began my career in oral surgery and have worked here at CNEE for nearly a quarter century. I work alongside our doctors: assisting them with procedures and helping patients get through their dental treatments with ease. It is rewarding to know that the patients are going to feel better after visiting our office.
I am a native of the area. Outside of work, I enjoy spending time with my grandchildren, working in my flowerbeds, and going for motorcycle rides with my husband.
---
Putnam Office

Charlie
Office Coordinator/Assistant
I began my career in dentistry in 1996 and have worked in all fields, including orthodontics, endodontics, general dentistry, oral surgery, and periodontics. I joined Central New England in 2004, where I assist with root canal therapy, surgery, and implants. I enjoy helping patients get the care they need and restore their smiles to ideal health.
I am married with three children. I spend most of my off time supporting my children in their sports!
Lynn
Dental Assistant
I started my career and training in general dentistry in 1990 and transitioned to endodontics in 2007. Although my main role here consists of assisting our doctors during procedures, my main priority is to ensure our patients' comfort. I make sure all their needs are met and their fears are abated.
I have been happily married for more than 25 years and have two children in college. In my spare time, I love to cook and take long walks.

Claudia
Dental Assistant
I was formally trained as an endodontic assistant at CCRI and graduated in 2004. I hold a dental assisting license and a radiology certification from Tufts as well as CPR certificate. I enjoy helping patients and supporting their oral health. I have met so many wonderful people being an assistant! I enjoy interacting with everyone and offering help and guidance with their oral health. Working at CNEEI has been such a great experience. Everyone is so supportive and caring!
I love spending my free time with my family, specifically my two children and energetic golden doodle, Teddy.

Abbey
Assistant
I hold my license and certificate in dental assisting, and have 11 years of experience. I enjoy working at Central New England—everyone is very family orientated, and genuinely cares about each other. Of course, I also enjoy working with patients. It's fun to get to know them and personally fulfilling to help them regain their oral health.
My husband and I are busy with our two kids and their school and activities. We have two chickens name Ariel Grape and Belle Watermelon and our stubborn bulldog name Wally!