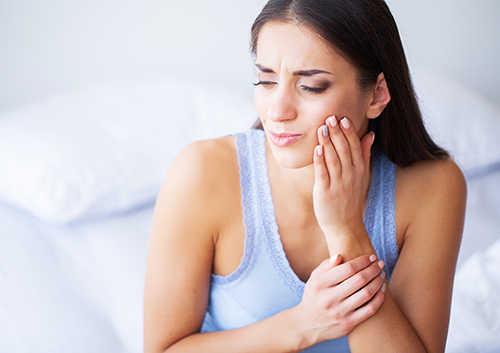 Whether it's a constant ache when you chew food or a sharp, jolting pain every time you bite down, if bite pain has you considering a permanent liquid diet, a trip to see Drs. Manzoli, Russo, Pauk, Desrosiers, Sahakyants is definitely in order!
What causes bite pain? You might feel an ache because of a cavity, a loose filling, bruxism (grinding the teeth) or a malocclusion (bad bite). Drs. Manzoli, Russo, Pauk, Desrosiers, Sahakyants will be able to help you get to the root of this type of tooth pain and provide treatment that will leave you smiling again.
But sometimes, pain is caused by damage or infection located in the inner chamber of the tooth. In this case, pain caused by biting or pressure on the tooth might indicate:
The pulp of a tooth contains blood vessels, nerves, and connective tissue. Because it is composed of living tissue, pulp can be subject to injury, inflammation, and infection. If bacterial infection sets in, the pulp will need to be removed and the site cleaned, shaped, and filled. This is something that should not be postponed, because without treatment infection can spread to the surrounding bone and tissue.
An abscess forms when pus collects into a pocket at the site of an infection. When tooth pulp suffers bacterial infection, the infection spreads through the interior of the tooth. An abscess can form at the tip of the root, or appear in the surrounding tissue. If the abscess finds a path to drain, you might feel some temporary relief, but treatment is essential. Unless the infected pulp is removed and the inner tooth cleaned, shaped, and filled, pain can not only recur, but the infection can spread to other parts of the body—sometimes with serious results. Endodontists are trained to treat infection in the tissues surrounding a compromised tooth.
A Cracked or Injured Tooth
When a tooth suffers a significant crack or fracture, the pulp can become infected or damaged. An endodontist is trained to discover and diagnose cracks and fractures that might not appear on an X-ray. If the crack is treatable, there are a variety of procedures, including oral surgery, which can preserve a tooth even if some of the root area needs to be removed.
Of course, bite pain is not the only symptom of a damaged or infected inner tooth. Any redness, swelling, fever, or prolonged sensitivity to heat and cold are signs that your tooth should be examined as soon as possible. If you are suffering from discomfort because the pulp of the tooth has been injured, endodontists like Drs. Manzoli, Russo, Pauk, Desrosiers, Sahakyants are experts in treating your pain.
Whether the answer is a root canal or more complex oral surgery, Drs. Manzoli, Russo, Pauk, Desrosiers, Sahakyants and our team have the training and experience to relieve pain, protect you from further infection, and save injured teeth.
If you are avoiding biting or chewing because of tooth pain, call our Worcester endodontic office. We can let you know how we can help give you back your happy—and healthy—smile.